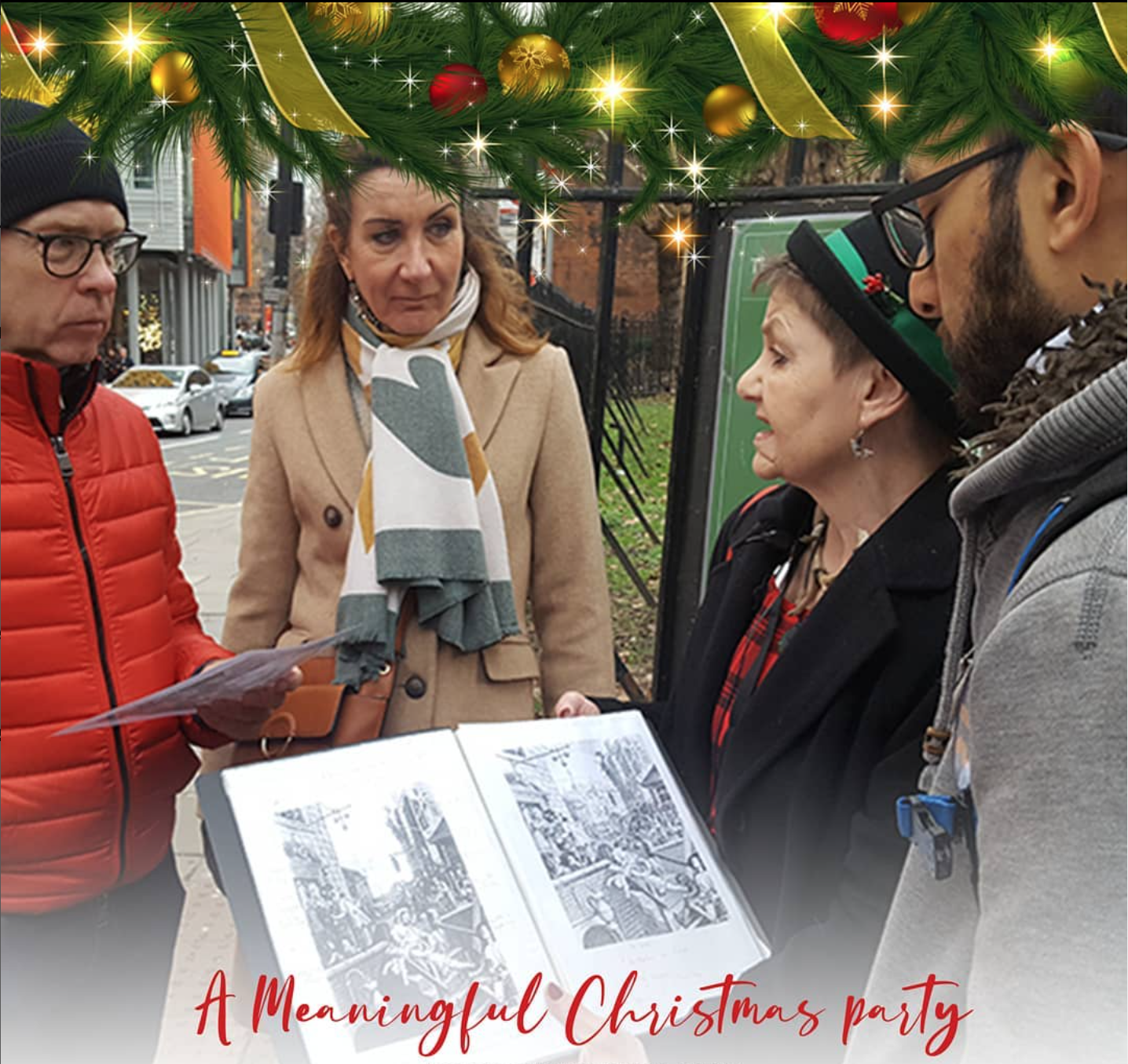 Have yourself a…
It's that time of the year again – Christmas Party season. Feel like you've only just finished organising the last one? Stuck for time or just lacking inspiration?
Have snow fear. Unseen Tours have you covered!
Our tours are perfect for: staff parties, friends, couples, families, dates, stag/hen parties or just join by yourselves! Go on, treat yo'elf!
(Oh, and we also do gift cards – buy here. That's your Secret Santa sorted!)
Unseen Tours, is a not-for-profit social enterprise that trains and employs London's homeless and vulnerably housed people, to lead walking tours of the city. Read more.

Let us do all the hard work for you
If the idea of planning the 2022 office Christmas party fills you with dread, sign up for one of our tree-mendous private walking tours – a treat for the whole team.
Bring your whole team together in a fun and entertaining way this Christmas.
Make organising your Christmas party easy – just pick a date, time and tour, and we'll do the rest, so you can enjoy the event.
Make a positive social impact by raising awareness about homelessness. The walking tours encourage reflection and understanding of local issues, through a gentle combination of facts and personal stories.
(Not to jingle our own bells here, but our Guides know all that is worth knowing about London, and through the hidden stories they reveal, the walking tours are guaranteed to build a new appreciation of the streets around you.)
Our guides would also be delighted to recommend local pubs and restaurants for you to continue the team bonding after the tour – and may even be persuaded to join you for a drink if you're thirsty for more of their stories.
So if you're looking for a quirky London Christmas party that won't break the bank…Just turn up and we'll provide the fun!
But wait—there's myrrh…
By including Unseen Tours as part of your Christmas party, you can impress your team and business associates by aligning profit with purpose, showing them that you care about making a positive social impact in London also.
As a social enterprise, the majority of the ticket revenue is paid to our tour guides, enabling them to do a job they love whilst they chart a path out of vulnerability. The rest of the ticket revenue is reinvested back into the organisation, so that we can grow our social impact.
We believe in giving our guides a platform and a voice, and empowering them to tell their own story. In this way, we provide them with paid work, confidence, opportunities to up-skill, and social inclusion.
Every aspect of the tours has been co-constructed with the guides themselves, making the Unseen Tours experience a genuine joint venture from the ground up.
At the same time, we offer a unique and eye-opening experience of London, to both tourists and long-time London residents.
Our aim is to change public perceptions around homelessness in all its complicated aspects, and value the often untapped potential of people who have experienced it.

Testimonials

The amount of historical facts and personal insights were fascinating. The tour was visually stunning with regards to street art that I didn't know much about. It felt like I entered into a secret underground world. Everyone in our group loved it.

We were all fairly familiar with Covent Garden having worked in a local hotel, yet Viv managed to take us to places we'd never been, and share stories we didn't know. Her local knowledge, and historical knowledge is incredible, and her personality is just so lively, full of energy and a pleasure to be around.

What a quality tour it was! Our guide, Nic, has an outstanding knowledge of her subject together with an excellent, friendly and professional manner. Have been on a few London walking tours in the past and the reputable ones are very good BUT THIS ONE WAS THE VERY BEST BY LONG WAY! (In my view)

Book now
Booking dates subject to availability. Reserve your date now to avoid disappointment.
*BONUS: Buy a Gift Card through our crowdfunding campaign and we'll get match funding!
Any questions? Get in touch
We'd love to have a chat and help you add some extra festive cheer to your Christmas party.
Email us at enquires@unseentours.org.uk