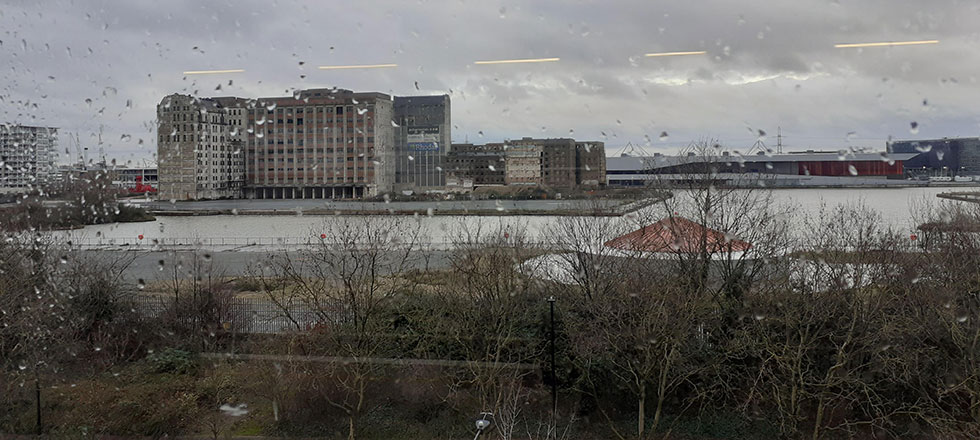 Joys of January 2021
Welcome to all our blog readers and to the end of a month bringing us Joe Biden, and Easter eggs creeping into our shops and minds.
My family and close friends have avoided Covid up to now. Most of the former live in the north so it seems like it will be Easter before I can consider seeing them. Also possibly the next time I will be able to greet people on an Unseen Tour.
Meanwhile thank you for joining me in a glimpse into my start to 2021.
Apart from some volunteering, online book buying, endless note making about anything that grabs my attention and trying to feel comfortable with Zoom meetings, I've been walking and wandering around London, again, re-discovering and discovering.
Largely on foot or choosing tube travel times carefully, walking through tunnels to platforms, quite eerie, not a soul in sight, a carriage to myself quite often, for my own continuing good mental health.
Years ago, I would self-isolate, which was a big problem, I do not wish to return to that mindset.
On moving to London in 1997 the tube/bus/train system was one of the first wonders I noticed and have always appreciated, never more so than now.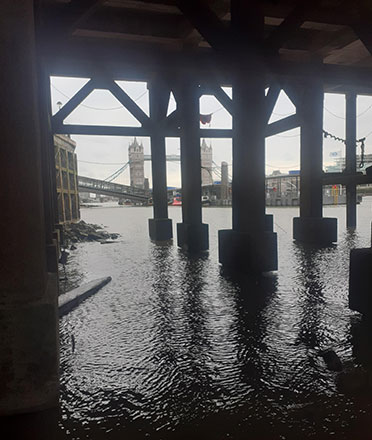 I am a FROG (member of the Foreshore Recording & Observation Group) – we are a group of 700 volunteers who monitor, record and research the archaeology of the Thames foreshore across London. I make the most of my permit by walking the shores of the Thames, looking at the timbers, watching the river and listening to water dripping off various structures, aware that where I am standing will be deep underwater again in a few hours' time. If I find something notable, it's a plus and I send it to the Portable Antiquities for identification and to be recorded.
Eastwards we have, overlooked by Excel and the stunning bronze Athena, the now enigmatic looking Millennium Mills, a derelict flour mill, that went from a decaying sign of lost London to an 'iconic' symbol of a great past. It was used for filming Life on Mars and is now being redeveloped, when Covid allows.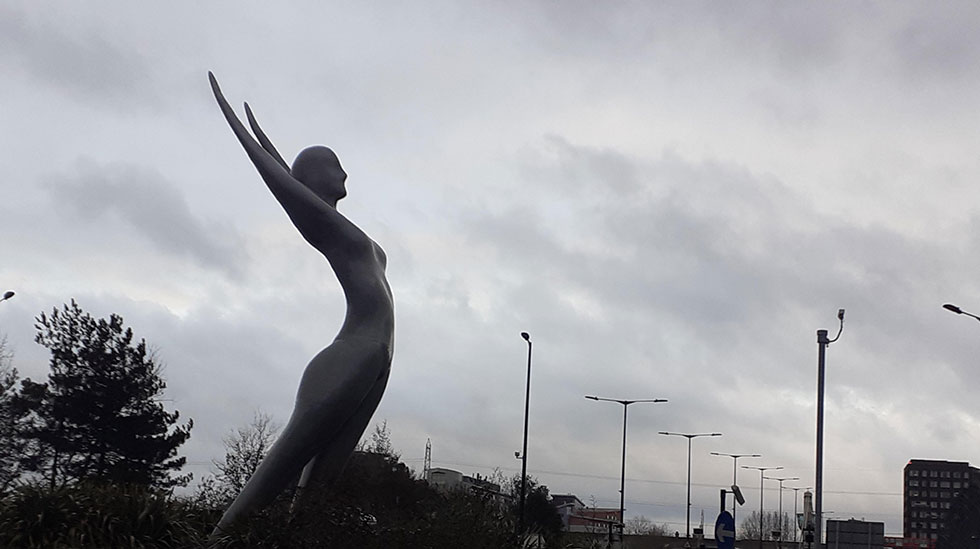 Over in Rotherhithe, it's hard to believe that this area was central to London's timber and whaling trade, amongst other things, but I will leave that story until another time. Though I will mention Stave Hill Ecology Park, quiet at the moment but vibe and view highly recommended!
I was also talking to a couple feeding 'Christmas' trees into a chipper. The scents combined must be my favourites, benzene and terpene, a heady mix, or maybe I should get out more?
Lockdown has made me, a little, tidier. When sorting through some books, a flyer for Outside Edge theatre group fluttered down to my feet so rather than waiting for 'live' classes to resume, I thought, why not? They kindly replied, so let's see what happens!