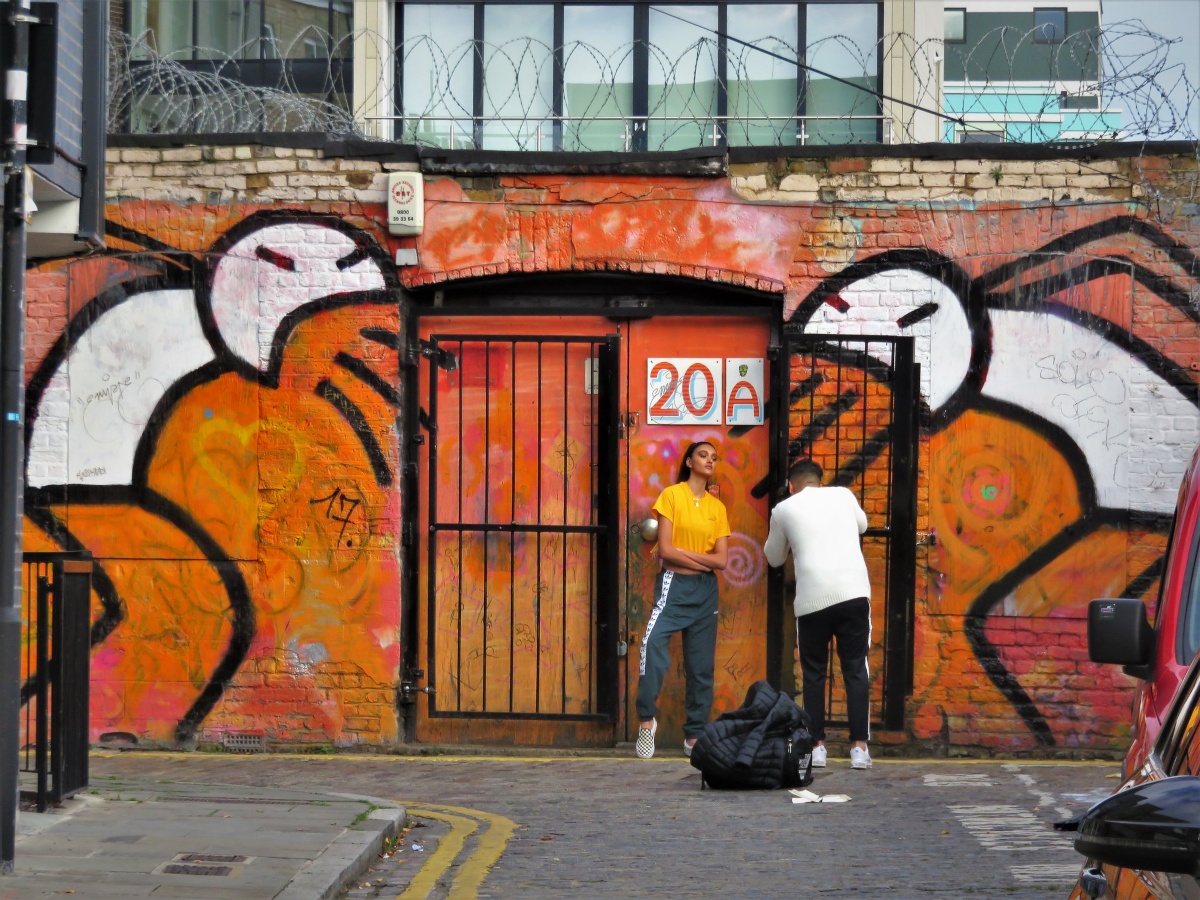 How London Street Artist Stik Crashed Pete's Tour
If you've been on my tour, or if you plan to, you will quickly find out one of my trademarks. After I finish my introduction to the tour I always say "If you have any questions please save them until the end of the tour. I think you will find that I've answered most of them along the way".
I've had people writing down questions in notepads or into their mobile phones in the past, and when the tour is finished, guess what? I've answered the majority of questions they put down!
Of course, there have been questions that have not been answered during the tour and I'm more than happy to answer those. There have been a few times that questions have taken me aback. One such time was when we were ambling along Brick Lane and we came across a street artist that I know very well… Stik. I was talking about his piece entitled "The Couple Holding Hands In The Street" when all of a sudden I felt a kiss on my cheek from behind! Stik himself had snuck up behind me gesturing to my group to not let me know he was there. He then planted a sloppy kiss on my (soon to be blushing) cheek!
The Couple Holding Hands In The Street
Laugh? I nearly… well (hmm hmm clears throat). We chatted for a while. He confirmed that my reading of his piece was quite correct and he began restoring the piece as it had been tagged by some graffiti "artists".
Fast forward to the end of the tour and I asked my "Any Questions?" line. A lady who seemed to have been quite alarmed with the previous event asked how "well" do I know Stik? I had to understand the context of the question before I gave my answer, so…
I explained that me and Stik had a long standing friendship. We both used to be homeless street-sleepers, followed by squat mates that "grew up" on the streets together. I was there when he found some paint left in the street (presumably by workmen that had finished with them) and I was there when he painted his first "Stik-Person" in the street. I also explained that, having such a long and close history, we love to play practical jokes on each other. The lady gave a huge beaming smile.
I speak of many "heavy" subjects on my tour of Brick Lane. And I love to speak about street art too because not only does it give an interval of relief from the heavy subjects, it also gives artists a way of expressing themselves and what is important to them. In this case, this would include tolerance, understanding, and respect for the wishes of other people even though they may not conform to your view of life.
Anyway, the tour was a huge success. So much so, infact, that I received a round of applause from the group.
Thank you for joining me on this "Tour de Force", and I hope to see you soon on my tour!
Banner image by Ferdinand Feys via Flickr