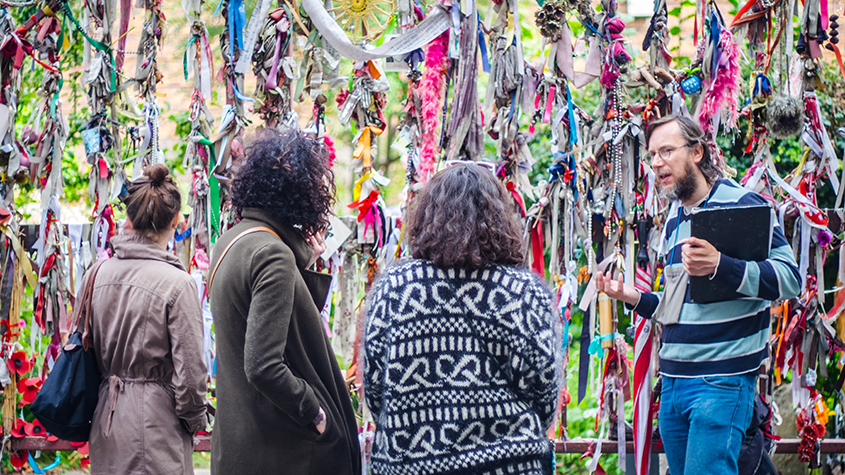 The Thing I Love Best About… London Bridge
Our newest recruit, David shares his favourite place on Bankside
It isn't the most famous landmark in the area, but the Crossbones Graveyard is one of my favourite places to visit, and certainly the most poignant stop on my London Bridge tour.
Crossbones is a disused burial ground, where thousands of poor Londoners were laid to rest in the early 1800s, which makes it sound a bit gloomy. In fact, it's quite colourful when you approach it – the gates are practically covered in ribbons, flowers and other tributes that members of the public have left as a mark of remembrance, so you know straight away that it's a significant place.
Over the years, there have been several attempts to build on the land, but thankfully that hasn't happened yet. A memorial garden was opened recently, which was absolutely called for. It only has a three-year lease, but I really hope that it continues after that because everybody deserves to be remembered, no matter who they were, and it's right that people should have a place to go where they can pay their respects.
The garden is open for a few hours each day, from 11am – 2pm, so anyone can visit and take a little bit of time to remember those who might otherwise be forgotten. There are also monthly vigils at Crossbones, where people are encouraged to share poems, songs and stories. At a recent vigil, I recited a poem I'd written about my mother, who passed away 17 years ago. It seemed fitting in a place that is about remembering."

Our London Bridge – Mysterious Alleys, Hidden Pathways tour is now open for bookings.