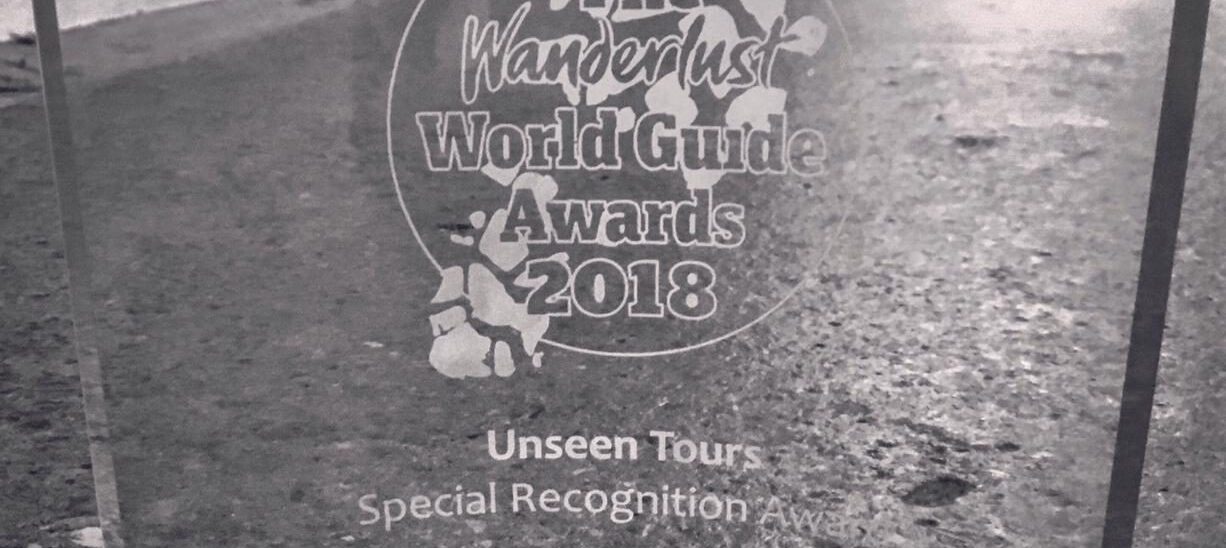 World Guide Awards 2018
4 October 2018
London-based social enterprise, Unseen Tours was presented with a Special Recognition Award by Wanderlust Magazine at The Wanderlust World Guide Awards 2018. On a night where the magazine celebrated its 25th anniversary anf the best tour guides around the world were celebrated for their achievements, the Unseen Tour Guides and volunteers were recognized for their role in shedding light on the issue of homelessness and social justice in London. Wanderlust founder Lyn Hughes and legendary travel writer Bill Bryson presented Unseen Tours with this special award.
Pete Wilson, the Unseen Tours Brick Lane Tour Guide who collected the award on behalf of the organisation said:
"Thank you Wanderlust Magazine and Make My Day for recognizing us (Unseen Tours Guides) with this special award. We love sharing our stories of our communities and local history with our guests, whilst also challenging them on the ideas they have about homelessness and social justice more broadly. It's a shame that most people don't generally take the time to talk to homeless people and discover what great storytellers we are, but thanks to the volunteers who work tirelessly for Unseen Tours in their spare time, we're able to share our stories and experiences with the world."
Jayni Gudka, one of the Volunteer – Directors of Unseen Tours said:
"This award is a great achievement for us, especially given the tourism industry's tendency to distance itself from homeless people. We work hard to build the confidence and skills of the homeless and vulnerably housed people we work with. And the fact that we can change people's attitudes to homelessness through our tours is a reward in itself. Thank you Wanderlust Magazine and Make My Day for recognising the passion and perseverance of our tour guides, and for giving us this platform to share what we're doing with the world."
Unseen Tours would like to extend a special thank you to award winning Travel writer and Make My Day founder Nick Buolos, who played an influential role in bringing visibility to the work that we do, and in particular, to the attention of Wanderlust Magazine.
Wanderlust Magazine's annual World Guide Awards are judged by an esteemed panel and presented to winners at an event at the Royal Geographical Society each year.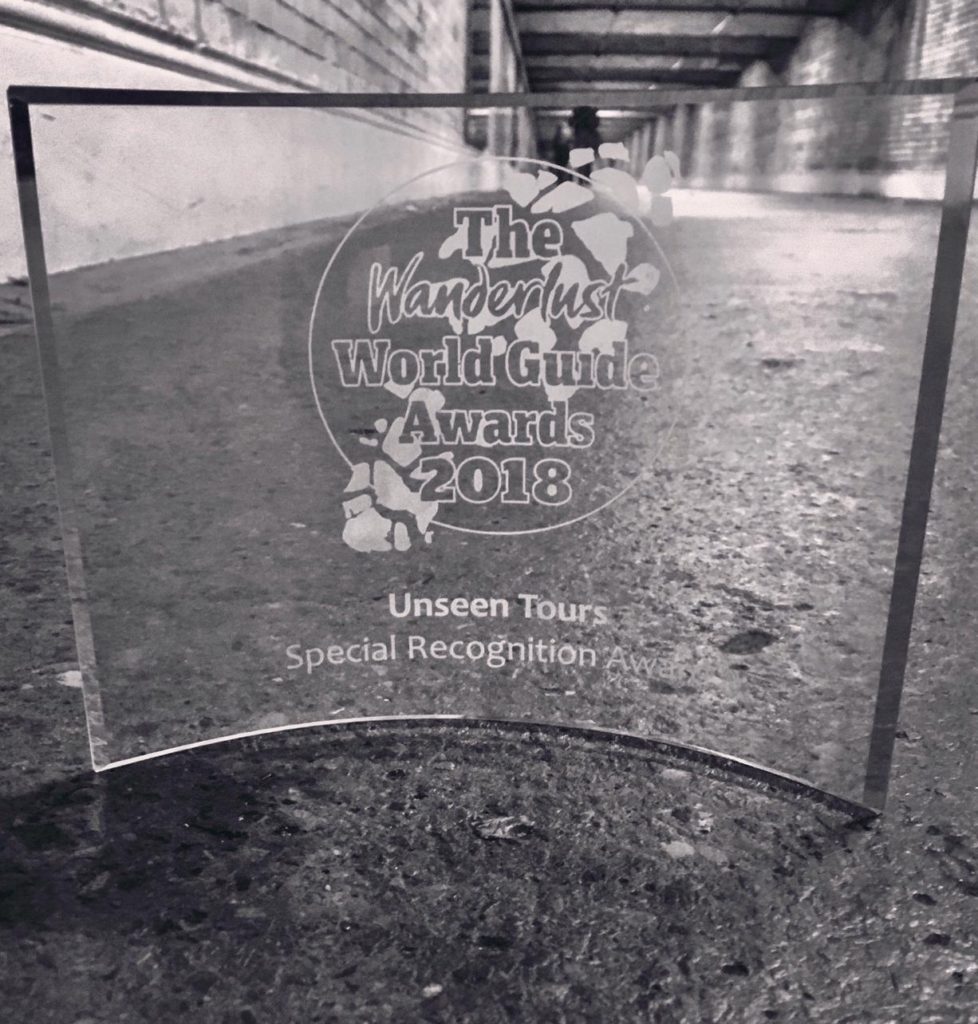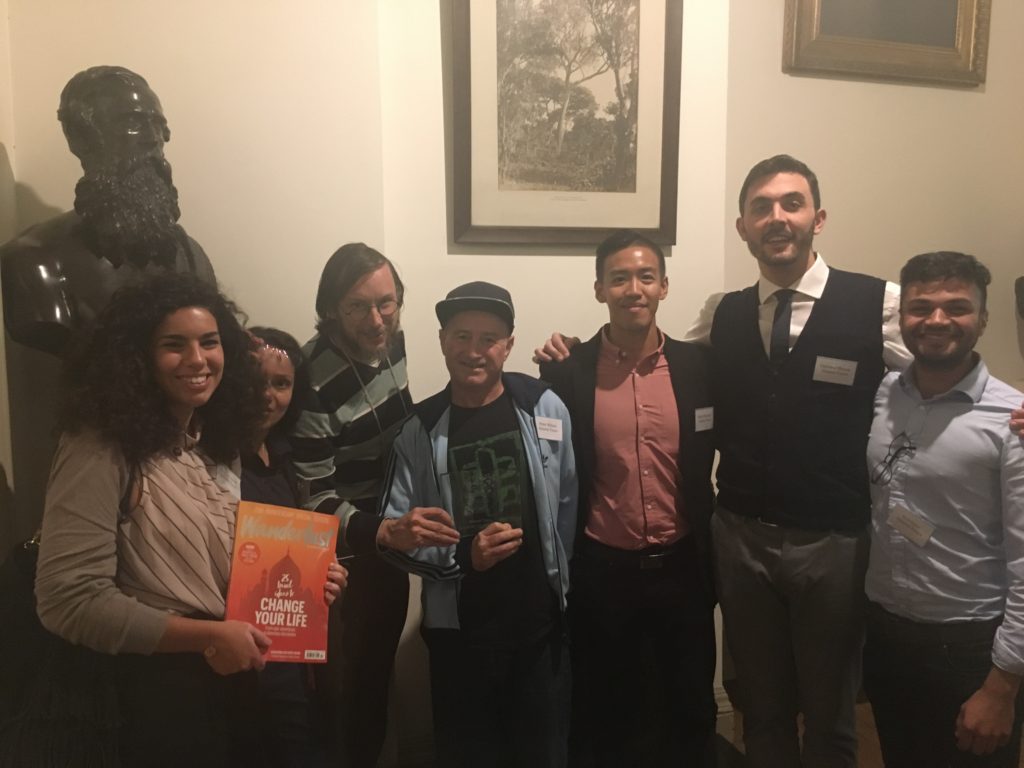 Note to editors: for any media enquiries about this Award, or about Unseen Tours more generally, please get in touch by emailing us at media@sockmobevents.org.uk.
Unseen Tours is an award-winning, not-for-profit social enterprise that offers alternative walking tours through London's most vibrant and interesting neighbourhoods, with homeless and formerly homeless guides. The tours offer a unique insight into London life, while giving visibility and a voice to people who often feel unseen and unheard.