2020: A Year In Review… and WHAT A YEAR!
Well… where to start? Phew! The year started well enough, after the traditional New Years hangover had finally worn off! The tours were nice and busy with me starting my Brick Lane tour on the 3rd January, then mid-February the news came that there was a new virus that had closed down China!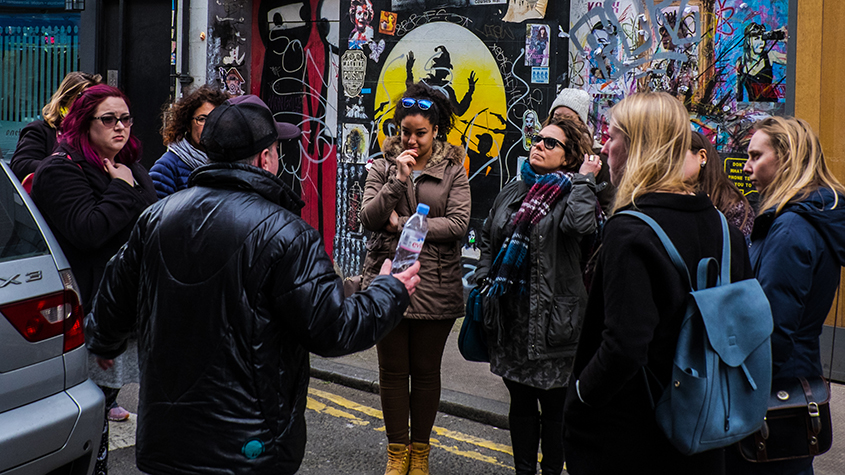 Then came cancellations and the tailing-off of bookings and I then realised the severity of the Corona virus. The first cases were reported in the UK and that was it… life changed almost overnight! My last tour before the first lockdown was March 3rd, most of my friends will laugh at what I'm about to write next, but here goes. I'm actually quite shy at times, though I really don't show it, so I decided that self-isolating would be no big deal… how right I was!
I realised that I had lost touch with some of the biggest passions in my life, namely reading, playing music (I play percussion) and spinning records (I've been a DJ since I was 15), so the lockdown gave me the opportunity to indulge in these passions. Guess what? These re-discoveries lead me to realise that I can enjoy (or at least tolerate) my own company. I also was contacted by people I've not heard from for years, some long lasting friendships were rekindled and I felt that I had this lockdown lark locked down.
Then a shocker, in September (I realise that's quite a jump) it was announced that the nationwide lockdown is gonna be lifted in October! We at Unseen Tours had kept busy in the last few months by organising our "Not-In-A-Pub" quiz (more on this soon) as a way to keep our profile up and, of course, bring in some much-needed cash for us tour guides. We also decided to start the tours with some social distancing measures to maintain the safety of our customers and ourselves, which included wearing a visor, wearing a portable microphone and encouraging everyone stays the recommended length of 2 metres apart and other measures. Also, during the training for this the Unseen Tours team met for the first time in months and we had a nice picnic.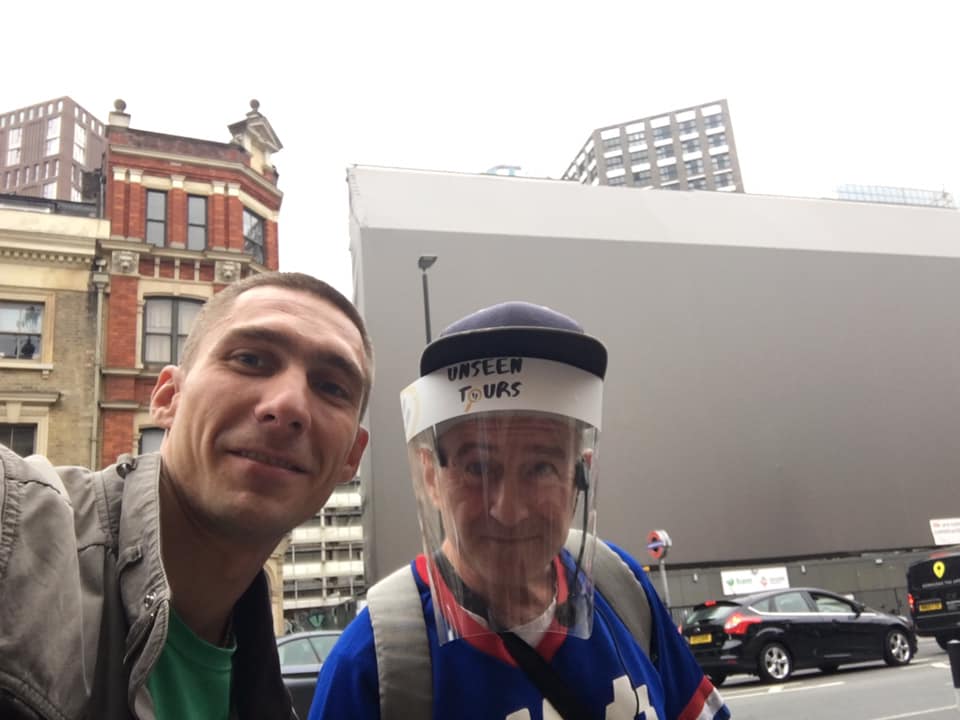 Back to the "Not-In-A-Pub" quiz, it was harder than I imagined to think of questions based on my tour, and it took me a while to get the hang of it. We hosted a few during the summer months and we were complimented on them by all our customers, but then it was time to get back to our real work… the best tours in London! We had a few bookings, though of course, the Corona situation had less people travelling to London for holidays, but we managed quite a few.
Then one of the highlights of my year… my friend Stik of his biggest and lengthiest project to date, the 10 foot statue unveiling in Hoxton Square of his amazing sculpture named Holding Hands. I took my 100 watt speaker and provided the music while he chatted with the BBC, ITV, national newspaper reporters and the Mayor of Hackney for what seemed like hours, until it was actually my turn to speak to him. Throughout the day I was wondering if someone was gonna ask him to pose with them at the statue doing the same pose… no-one did! See the picture below for the result.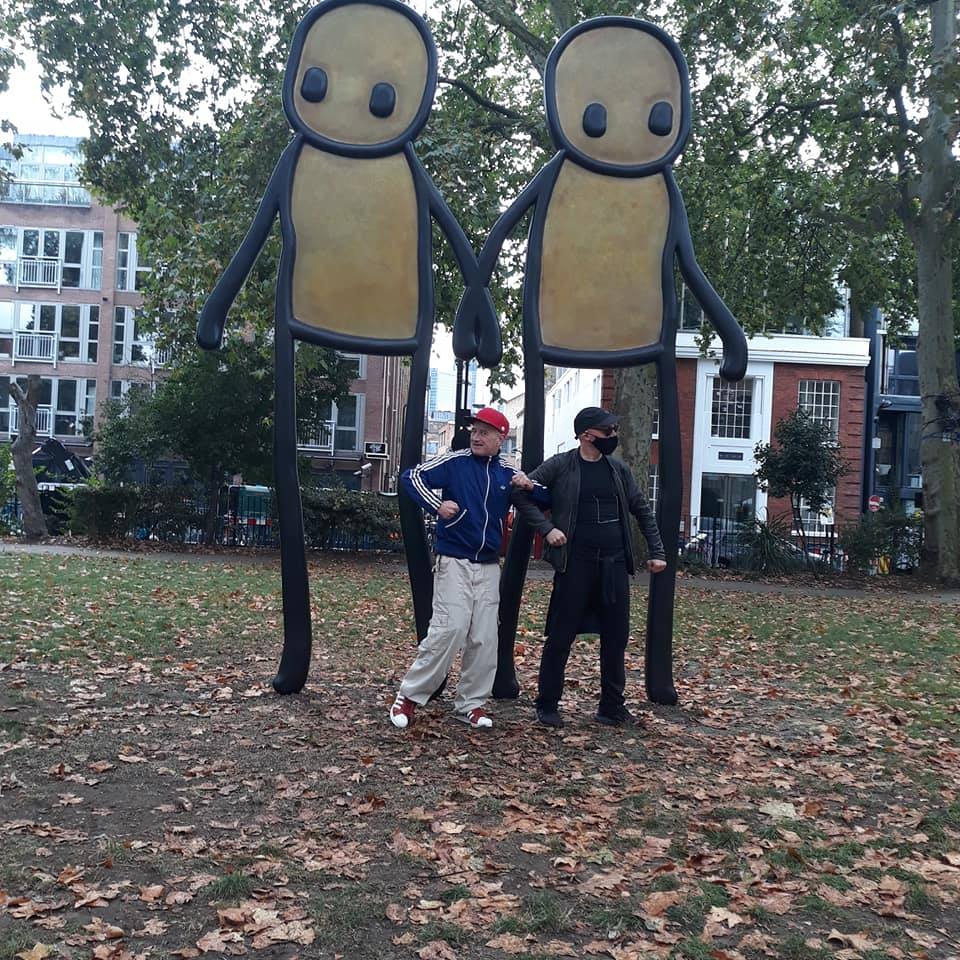 Then shocker… national lockdown 2.0 was announced! With the exception of the last paragraph it all repeated itself, though this time with the addition of afore-sight. The passions and frienships were newly rekindled and life became more bearable once more, and the "Not-In-A-Pub" quizzes were back on.
Fast forward to November and Unseen Tours started to organise our "Christmas-Not-In-A-Pub" quizzes and they went down like the New Years Eve fireworks go up… Spectacularly! Winter, and in particular December are our busiest time of year, yeah I know most people presume that summer is our busiest time, but not so. BANG! The "Christmas-Not-In-A-Pub" blew up! They were fun, interactive and (with a healthy dose of alcohol) also hilarious. One of the "Christmas-Not-In-A-Pub" quizzes had over 100 participants! WOW! These quizzes made me hanker to get back to touring around my beloved Brick Lane, although another shocker was about to be dropped…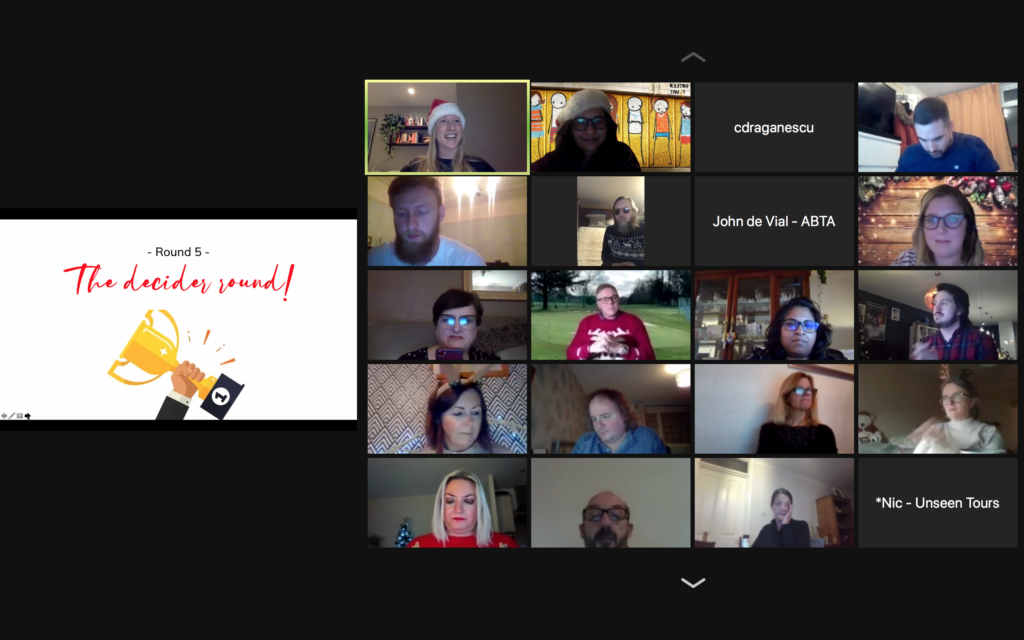 CHRISTMAS IS CANCELLED! Screamed the tabloids and the internet… hhhhmmmmm… Oh well, I thought, I've not celebrated crimbo for years, so what the heck? I was self-isolating anyway, and during this time Unseen Tours had an online team meeting where we had an internal, just for fun "Christmas-Not-In-A-Pub" quiz.
It was fun, but one of the questions, put by one of our amazing volunteers Jen was, "What have you learned this year?"… I really had to think hard and deeply about my answers. Remembering one of the worst years in living memory, we all had positive things to say in reply to this question.
That sums up Unseen Tours emphatically, no matter what the odds there is always a better future that we can influence.