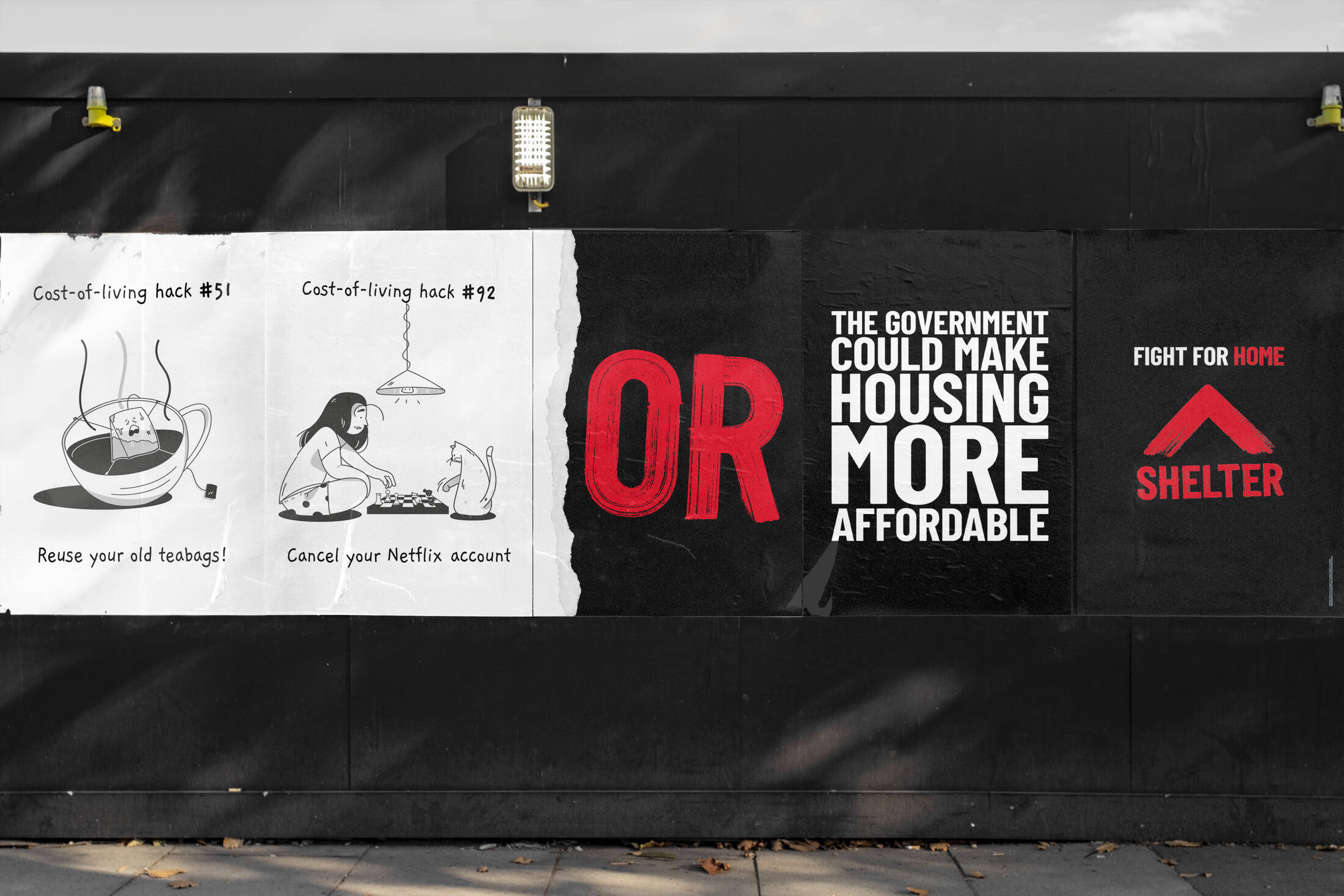 Shelter's Cost of Living Hacks
Just work more hours!
Put *another* jumper on
NEVER order a takeaway
Reuse your old tea bags!
Stop buying oat lattes
Cancel your Netflix account
These slogans appeared a few days ago outside Shoreditch High Street Station in London. Next to them, passers-by can read the following, groundbreaking solution: the Government could make housing more affordable.
This initiative is led by Shelter, a charity fighting for housing rights in the UK. Their most recent campaign, The cost of living crisis, builds on the current crisis the country is going through and highlights the housing emergency: almost 2.5 million renters are either behind or constantly struggling to pay their rent, and 1 in 3 spend at least half their household income on rent. Saving tips and hacks are NOT sufficient.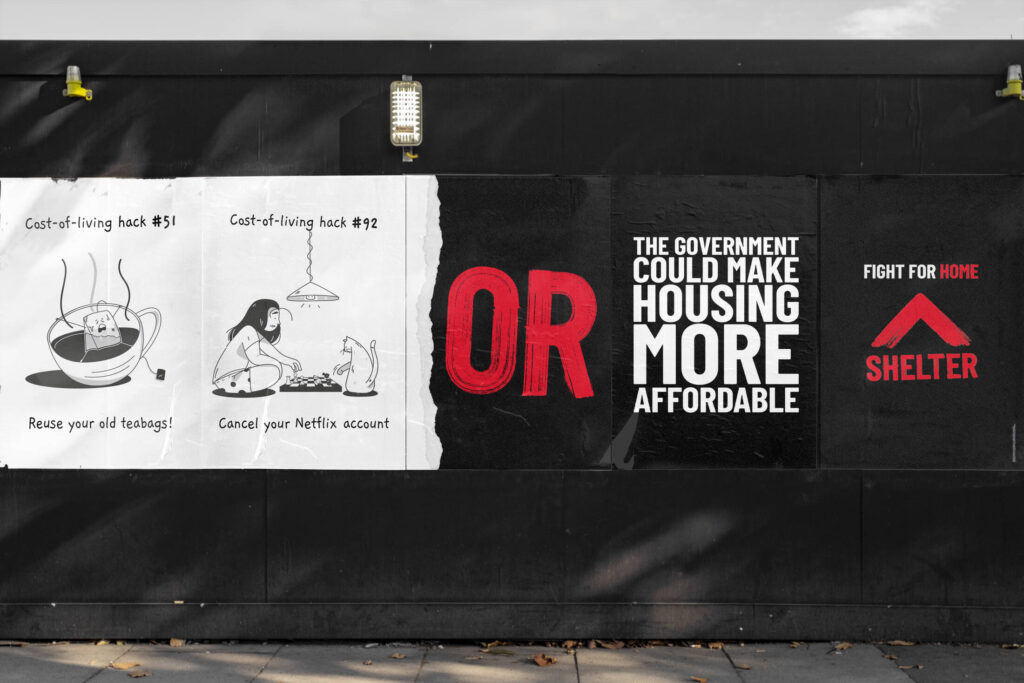 The writing is on the wall.
By spray-painting these slogans outside of the station, Shelter has ensured it reaches a maximum of people and not only specific demographics which might happen with more targeted online channels. It is an issue that concerns everyone: according to the Financial Conduct Authority, 1 in 4 UK adults are in financial difficulty or on the brink of financial difficulty, and 7.8 million people are "finding it a heavy burden to keep up with their bills".
At first, reading all these injonctions really offended me – why should I give up on the little things that make my life better? Will it even make a difference? And then I read the second part of the message, and I realised: this is a massive issue everyone is facing, and some people have the power to change that, so why don't they? I am hopeful this campaign, and plenty of other initiatives, will start conversations and spark some action to convince the government to act.
A small, simple action people can do is write to their MP, and seeing this campaign on their daily commute will hopefully push them to act and have conversations with others about what is happening. We all know the country is facing a crisis, and the only way to get our politicians to act is to present a united front: the situation today is unsustainable, quickly degenerating, and, as always, the most vulnerable are on the front line.
What is Unseen Tours doing?
Just like we did during the COVID pandemic, Unseen Tours is once again springing into action and adapting to these tough times. We are finding new ways to support our guides during winter and we are raising awareness about the current situation and the impact it has on vulnerably housed people through our own Cost of Living Campaign.
We have shared, and will continue sharing our guides' stories and reflections about how the cost of living crisis is impacting their lives, and we will be working with other homelessness organisations to raise awareness about how the cost of living crisis is impacting people with experience of homelessness.
What can you do?
We'd love for you to support our campaign, especially in the run up to Christmas. Consider including our tours as part of your work Christmas parties, or gifting our tours to someone special.
We'll also be launching a new crowdfunding campaign to help our guides through this very difficult time, so please keep an eye out for more information.