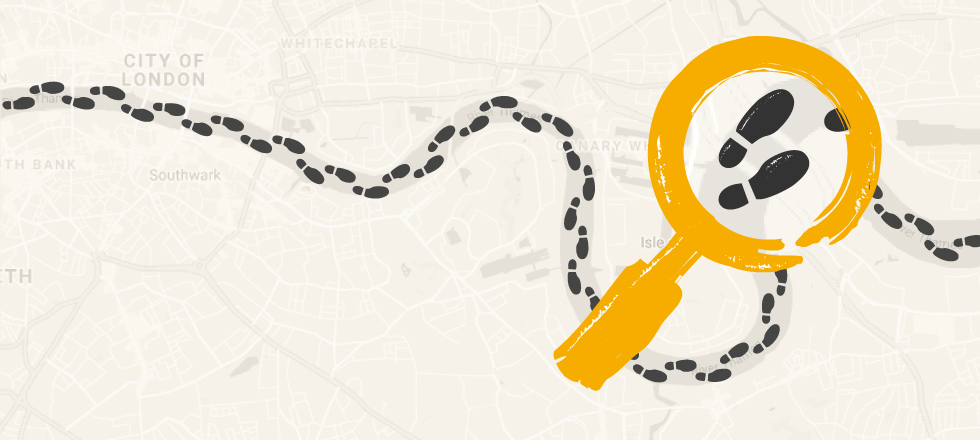 And the Award Goes to…
Unseen Tours, being a Social Enterprise that gives back to the homeless community, has been recognised for its achievements in many ways and by many organisations.
From media outlets to governmental and non-governmental organisations, Unseen Tours has gained recognition for the wonderful work we do and the input of many inspirational volunteers. These volunteers give up their free time to help maintain Unseen Tours and give people who have experienced homelessness, or have been vulnerably housed, the hope of getting back into work and, therefore, hope of fulfilling a life that they may have experienced before their homelessness.
Many organisations have recognised the above points and have run features on Unseen Tours to encourage people to experience our tours. Unseen Tours have had features on T.V., on the BBC and ITV, we've been featured in newspapers such as The Guardian, The Observer (who we also won an award for Ethical Tourism from), plus countless magazines and travel blogs. One award (especially the actual award ceremony) in particular stands out in my memory, the Wanderlust Magazine World Guide 2018 Special Recognition award.
Wanderlust Magazine is a leading travel magazine that organises an annual global Tour Guides award. Guides from around the world are nominated by their guests for the award and guides attend a presentation ceremony in London. They are invited on stage, in front of specially invited guests, to talk about their tours and their experiences. The Tour Guides presented some wonderful stories from Africa and Tibet and other places around the world. There were many funny stories, many sad stories, and many stories of danger. I remember thinking "Wow! How am I going to follow that?" In the end, I needn't have worried. The team calmed me down and our wonderful volunteer Jasmine got me ready to enter the stage when our names were called.
Well… I haven't mentioned yet why my nerves were quite janglesome (is that a word?). I was about to meet one of my favourite writers, Bill Bryson! If you've never read a Bill Bryson book I'd totally recommend that you do. Volunteer Jasmine introduced Unseen Tours and explained what we do, a little bit on how we were founded, and how we are going to take things forward as a Social Enterprise. We then showed a short video to introduce all 5 guides and then the BIG MOMENT… my turn… GULP! I chatted a little about my experience of being homeless and how I became involved in Unseen Tours (please read my previous blogs for more info). I then praised our wonderful volunteers and thanked them all for working so hard for our benefit.
Just then, I remembered what I'd brought with me… about a week earlier I'd bought a Bill Bryson book from a charity shop and I'd hidden it behind my back until now.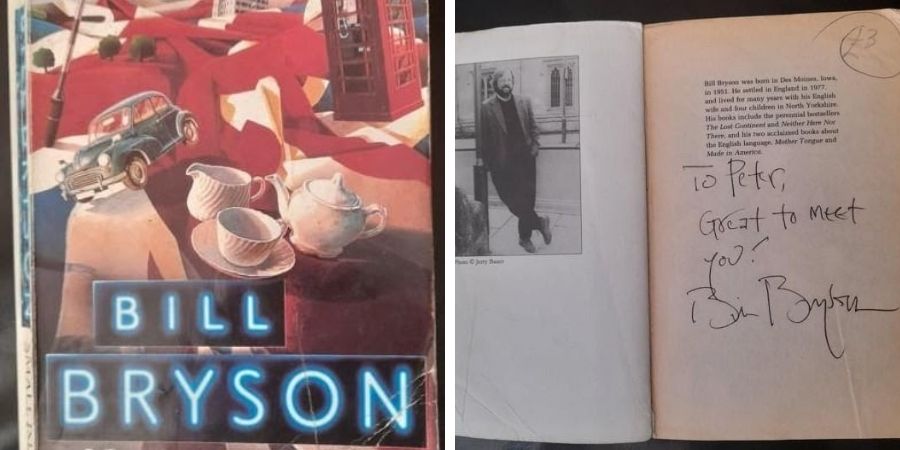 I'm pretty sure I produced the book with a theatrical flourish because it received quite a titter from the audience and a huge smile from Bill himself. This turned into a guffaw when I opened the book to reveal that the book had only cost me £3! To which he replied "£3! That's a bit expensive!" The audience and myself were rolling in the aisles with laughter! His humour most definitely comes out in his writing as well though.
Then… It was all over. Bill Bryson was mobbed by autograph hunters, so I decided to wait until the mob decreased, but it didn't. I waded through the throng until I was next in line and asked him to sign the book. I also asked if we could have a photo together. He duly obliged and we had a nice chat. I even invited him onto my tour – he's not been though… Yet! 
Here's a feature we had in Wanderlust Magazine before we received our award
This is one of the greatest experiences I've had as an Unseen Tours guide and the memory of the evening will cheer me up when I'm down forever! The thing is, the Wanderlust Magazine is one of many awards that Unseen Tours has received. One of our founders, Faye, was awarded a "Points Of Light" by the government in 2014, with a commendation by none other than former Prime Minister David Cameron!
Awards by other organisations are available to peruse on our website at www.unseentours.org.uk
Award season is currently upon us, so please award us by booking onto one of our award-winning London tours!
Thanks for reading.
Pete, Your Unseen Tours Brick Lane Guide