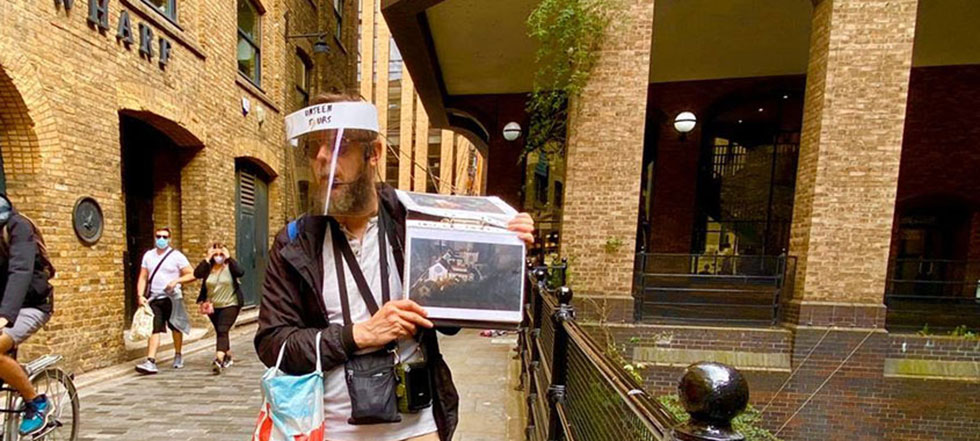 We're Back! Join our Unseen Tours of London from August 29, 2020
Unseen Tours is back! Our walks, guided by homeless, formerly homeless and vulnerably housed Londoners, are back starting on the 29th of August 2020. You can now book our guided tours online once again.
Incidentally, our return coincides with a very special 10 Year Anniversary of the social enterprise. To mark this momentous occasion we are offering 10% off all our tours booked till the end of September. Simply enter UNSEEN10 in the promo code box when booking to claim your discount. Rest assured that the Guides will still get the 60% of the usual full ticket price.

Whilst the last few months of lockdown has been very difficult for the organisation, and for our Guides especially, we have used the downtime to have a long and hard think about who we are as an organisation, and where we want to take Unseen Tours in the future. We have some exciting plans to share with you all, so please look out for these announcements in the coming weeks.
Brand new offerings
Our brand new offerings will bring the Unseen Tours experience to you, wherever you are. They include virtual and live quizzes, corporate packages, one-on-one sessions and more. Despite the current situation, we can't think of a better time to offer these new experiences as we embark on a new decade.
Speaking of a new decade, we are very excited to announce that in August 2020, we will be celebrating 10 Years of Unseen Tours. During this time, we have worked with over 20 Guides throughout six neighbourhoods and welcomed thousands of guests from various countries. Unseen Tours has hosted various school and university groups, partnered with various charitable organisations to further our cause and mentored other social enterprises who are heading up similar ventures in their home countries and cities. Our Tours have been consistently featured in the media and we have received numerous awards including a Special Recognition at The World Guide Awards from Wanderlust Magazine.
But most importantly, over the last 10 years we have made, and we will continue to make, a big impact in fostering a more inclusive society for homeless and other marginalised groups, empowering people from these groups to tell their stories, earn their own income and change perception of homelessness one tour at a time, whilst leading entertaining and eye-opening walking tours of London. In the next few weeks look out for our celebratory posts as we reminisce about wonderful memories and achievements.
For now however, we are focused on getting the tours back up and running so that our Guides can once again do what they do best, taking you to the less-explored paths of London's neighbourhoods as they share personal stories, little-known facts and show London's historical and cultural quirks which you won't find in any guidebook.
Covid-19 safety protocols
As we adjust to the new normal and follow government guidelines here are the steps we've taken to ensure that our tours comply with Covid-19 safety protocols created to keep you safe.
What we will be doing:
Our Unseen Tours Guides will wear plastic visors whilst conducting their tours.
Guides will use a microphone to ensure that you don't miss out of their stories.
We will have a few masks and hand sanitiser on hand if you need them, though we'd of course encourage you to bring your own too.
We have reduced group sizes. There will be no more than eight persons per tour for your safety.
What we expect from you:
When booking your tour online please provide accurate contact details so we can support the government's contact tracing effort.
If you feel unwell or experience symptoms of Covid-19, on the day of the tour, please stay home and follow guidelines set by the UK government.
When attending the tour please try to maintain a distance of at least one meter from people outside your own household.
If you are coughing or sneezing please do so into your elbow or use a tissue and discard the tissue in a bin immediately.
You can find more information about what we're doing to keep everyone safe here.
Our guides, Pete, Viv, David, Henri and Nic, are back from the 29th of August and are looking forward to welcoming you again. Whether it's infamous Soho, mysterious London Bridge or celebrated Covent Garden, our guides will offer you history, insights and landmarks that make each place memorable. With personal experience woven into each tour, it's bound to ignite your curiosity and change your perception of homelessness as our Guides open up your eyes to London's local neighbourhoods, and their place in it, as never before.
Book your tours with us!